We are starting a series of breaking down some of the best or most hobby relevant young players in the biggest leagues of the World. Ligue 1 prospects will be the first ones covered. Recently Ligue 1 produces some fabulous young players that go on to become hobby superstars like Kylian Mbappe, Mathys Tel, Aurelien Tchouameni and Eduardo Camavinga to name a few. There a few names here you will likely already know and a few you might not depending on how closely you follow Ligue 1. Panini is also finally coming out with Ligue 1 specific sets so prospecting Ligue 1 is more valuable than in the past.
LIGUE 1 PROSPECTS REPORT
Warren Zaire-Emery – 16 – PSG – Midfielder – France
PSG's youngest ever debutant…there are some lofty expectations ahead as Warren has beat out names like Anelka and Coman. A well-rounded midfielder who can exceed with the ball at his feet or with off ball movement and awareness…it is difficult to find a deficiency in young the Frenchman's game
Warren has 2 goals in his last three games in Ligue 1…all starts alongside players like Mbappe, Neymar and Messi. He truly is a plug and play midfielder that can adapt to seemingly any circumstance and the sky is the ceiling for this youngster.  Think Pogba mixed with Rooney mixed with Gerrard mixed with Kante and we might have somewhere close to as good as this young man can become.
Hobby Outlook: 5-9/10?
Warren is only in a few sets so far but I expect him to be introduced into the majority of Topps sets this year so he will have a ton of rookies. Topps Deco, Topps Jude Bellingham Curated Set, Merlin Heritage Leaf Continuum are the sets in which he currently has sales data for. None of these will be his desirable rookie cards by the time this year's releases are done. Anything numbered or auto wise is still extremely expensive (which can create flipping opportunities) but I expect that to change as the 2023-24 sets begin to be released and his supply increases dramatically.
Expect a considerable amount of hype for his flagship cards this season as he is currently starting for PSG and more than holding his own for one of the best teams in the world.
This could be a scenario in which his prices start out sky high and drop over time unless he is among the best midfielders in the world as a teenager. Midfielders in the hobby always seem to be have an imaginary ceiling that isn't necessarily as high as you would like it to be. My recommendation would be to identify some of his more special Rookie (RC) cards and sit on 1-3 if you believe long term.
Some of his rookies:
2022-23 Topps Deco (Search Ebay Listings)
2022-23 Merlin Heritage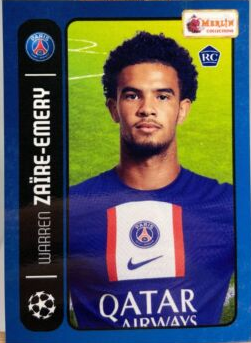 Folarin Balogun –Age 21- Reims (on loan from Arsenal) – Forward
Folarin has burst onto the world scene this season thanks to a loan to Reims. as of right now he is leading Ligue 1 in goals scored. After only getting spot minutes for Arsenal last year he was loaned to Middleburgh during the January window and had some success but nothing like he is seeing this year. It is quite a luxury for Arsenal to have a young talent like this out on loan.
Hobby Outlook: 9/10
As it stands right now Folarin is one of the hottest names in the hobby for a few reasons. One is the success he is having on the field. Another is the fact that there is a possibility he chooses to play internationally for the United States which would help his hobby values greatly. He was born in the US but moved to England at a very young age. The USMNT should have tied him up before this latest explosion but of course they didn't. Now the chances he chooses England are much greater than they were in the past. He will not be staying in Reims next year. If he goes back to Arsenal and maintains this level of success he could go up even more. If he goes back to Arsenal and doesn't get starter minutes and chooses England his hobby prospects definitely take a hit. Lastly his cards are so hot because he only has rookies in one sent 2021-22 Prizm EPL. Having limited rookies is something we don't have much with new products but when we do you can see big jumps.
His rookie:
2021-22 Prizm Premier League (Search Ebay Listings)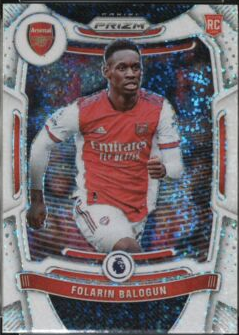 Rayan Cherki –Age 19- Olympique Lyonnais – Midfielder – France
Rayan is one of the few players in world football that is equally adept between right and left foot –making him a high tier prospect given his talent, age and pedigree. Coming from the same youth system that produced Karim Benzema…he is hoping to follow in his countrymen's footsteps. Real Madrid are among the teams monitoring.
Cherki is an attacking midfielder that is in the 90th percentile in passes completed while was in the 96th percentile in key passes. He is a creative ball progressor that achieved the 88th percentile in expected assists under the age of 20. Impressive to say the least. He has begun to really start producing after battling injuries for large parts of last season. Rayan has 4 goal contributions in his last 3 games including 3 goals and 1 assist while starting each game after showcasing his creativity earlier in the year with 3 assists in 4 appearances as a substitute. It will be very interesting to see how he develops over the second part of this season
Sources: fbref.com
Hobby Outlook: 7.8/10
Rayan has very few cards currently in circulation which would equate to a potential large rise in price if he stays along this trajectory and gets hype to be bought at a large club. Being an attacking midfielder…he has a chance to create a lot of hype with goals and assists coming from both feet. His only cards so far are from 2019 Topps Now and 2021/22 Topps Merlin. he doesn't have a RC on his Merlin because Topps recognizes his Topps Now as his true rookie since it came out at least a season before his regular release. This is similar to how Florian Wirtz was treated and his non RC Topps cards from 2020-21 still do quite well.
Some of his rookies:
2019 Topps Now – True RC (Search Ebay Listings)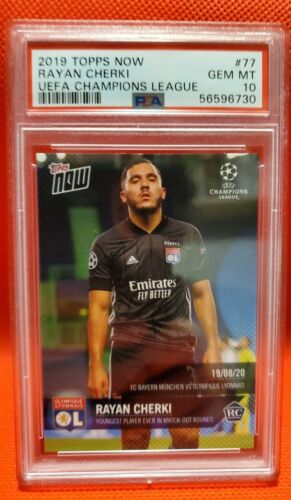 2021-22 Topps Merlin Chrome (Search Ebay Listings)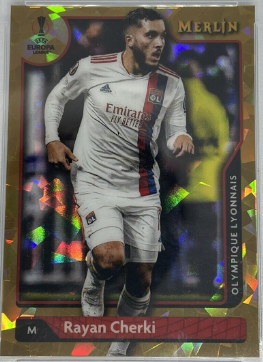 Nuno Mendes-20-Paris Saint Germain- Left Back – Portugal
Arriving for almost 40 million from Sporting in the summer of 2021, Nuno Mendes has established himself as the first choice left back for PSG. Highly touted in Portugal, Mendes is known for his offensive capabilities as a left wing-back but he is also quite capable on the defensive end.
In an unlucky turn of events, he picked up an injury right before the World Cup and was not able to contribute for Portugal in Qatar. This turn of events led to a stagnation and slight decline in his prices during a period in which could have been the best ever potential for quick growth – supply of his cards has only grown since the injury back in November.
Since his return from injury in late January…PSG have been cautious with Nuno but against Bayern Munich this past week he showed the whole world how dangerous he can be. He played all 90 minutes and had multiple highlight reel runs down the left flank including an assist to Mbappe that was marginally ruled out for offsides
Hobby Outlook: 4/10
Nuno Mendes is in A LOT of sets from the 2021-22 season. Mosaic, Prizm, Obsidian, Merlin, Topps Chrome, Donruss, Stadium Club, Museum to name a few…so his cards are plentiful in regards to supply for his rookie season
Given just the fact that he is a defender with this much supply…it would take a large leap in quality of play and highlight reel plays to move the needle in regards to Mendes' hobby prices (think Alphonso Davies when he kept making highlight reel plays for Bayern – but on steroids since Davies had much less supply)
Mendes is on a trajectory to become one of the better if not one of the best left backs in the world and my hobby recommendation would be to look for only very rare cards of Mendes to hold on to for the future – some examples would be a Red Flood obsidian, a low numbered (<25) auto in a PSA 10, a lower numbered color match (<50) – just make sure the cost basis is in line with buying a defender
As a general rule…defenders do not do well over time in the hobby but I could see Mendes' cards having an ebb and flow to capitalize on if he keeps up this current standard of play
Some of his rookies:
2021-22 Donruss Optic Rated Rookie (Search Ebay Listings)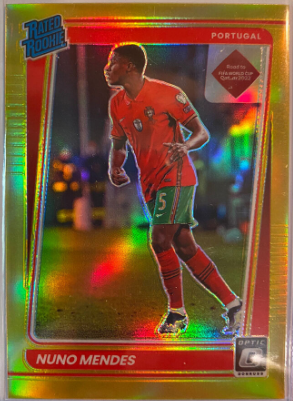 2021-22 Merlin Chrome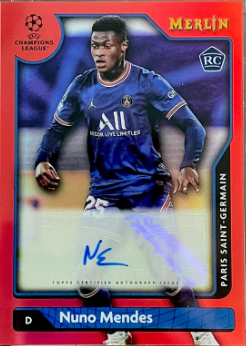 Jonathan David -23- Lille – Forward – Canada
An older prospect that most football fans will be fairly familiar with. David has scored at least 13 league goals for the past four seasons and has 18 goal contributions in 22 league games so far this season. He is a center-froward that has been operating alone in Paulo Fonseca's 4-2-3-1 formation. Currently top 5 in xG per 90 in Ligue 1, Jonathan has been able to use his pace and awareness to exploit the space behind defenders. His link up play has also improved, being the lone stroke he is now forced to drop into space often and link up with midfielders looking to exploit the space behind the defense. This is evident in his 4 assists so far this campaign while achieving zero assists last season.
Lille seemingly priced David out of a January move but even coach Fonseca has admitted it will be difficult to keep him at the club beyond this season. His rate of output and profile as a striker make him a potential target for a big club in the summer of 2023. Manchester United have long been admirers of David.
Hobby Outlook: 5/10
David's short-term hobby outlook depends heavily on if he is able to get that summer transfer out of Lille and to a major club that would move the needle. Topps put him in all of the Chrome sets as well as Merlin, Stadium Club, 1st edition. Panini has him in Prizm World Cup with the Canadian kit so while he's not in every set like Nuno Mendes above…his rookie supply isn't small. Jonathan also has a rookie sticker from the 2018 Panini Pro League set from his time at Gent.
Canada is hungry to invest in a prospect not named Davies which was evidenced by some of the crazy prices David's rookies were going for last summer. Since then, his cards have tanked as each set kept producing more and more supply that his organic demand couldn't sustain. My recommendation for a David card to hold short term would be a semi rare PSA 10 (numbered <99 or less) while long long term we are working with the thesis that David is the starting forward for Canada at the 2026 World Cup that they will be hosting. Below I will be showing some of David's nicer cards from the recent year.
Some of his rookies:
2018 Panini Pro League Sticker – True Rookie (Search Ebay Listings)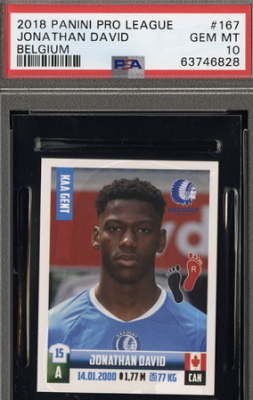 2021-22 Topps Chrome  (Search Ebay Listings)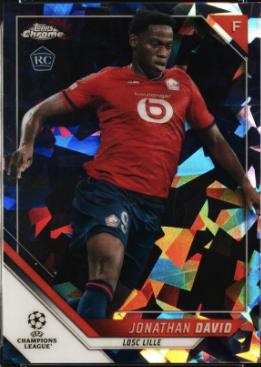 Jeremy Doku – 20 – Stade Rennes – Winger – Belgium
Euro 2020 seems like forever ago when the world watched a young Belgian winger embarrass defender after defender. Doku jumped onto the scene in the biggest of games and was potentially the best player on the field as a 19 year old. Fast forward almost two years and Jeremy is still trying to find his feet at Rennes. The club that sold Mathys Tel to Bayern and Camavinga to Real Madrid..two players that look like the real deal. Injuries have been at the heart of Doku's problems the last few years as since August of 2021 he has missed 39 games for Rennes…pretty much an entire season on the sidelines
Talent is without question for Jeremy. He's a right footed winger that can operate on either flank and particularly likes cutting in from the left. Speed and skill describe his game as he can make any defender look as if they aren't there but a consistent product in the final third still eludes him. In 503 minutes in Ligue 1 this season he has yet to record a goal or assist but his last two games (on February 12th and 16th) he recorded the highest Sofascore rating of any Rennes player for two consecutive games including an assist for their only goal in the Europe league. Could this be the start of something special for Doku or just another glimpse of what could be?
Hobby Outlook: 3/10
This would be your prototypical prospect gamble on a player that is uber talented with a fair few rookie cards that has the potential to be among the best wingers in the world or fall into hobby oblivion. Doku has plenty of rookie cards from the 2020-21 releases. He is included in most every Topps set from 2020-21 including Chrome, Sapphire, Merlin, Museum, Finest, Aoki, Japan Chrome. Panini has rookies for Doku in Mosaic Euro from 2020-21. Doku also has a fair few second year cards including Obsdian, National Treasures and Prizm World Cup. Supply is an issue going forward for Doku.
My recommendation for Jeremy Doku cards to hold short term would be any numbered rookie (<99) that you can acquire at a very cheap cost basis. His prices are very low so this is a scenario in which you can look for rare cards at very cheap prices knowing it's a gamble. I'm sure you could even win some topps chrome numbered rookies for 2-3$ on auction if you're a grinder. His rookie Euro Mosaic /88 PSA 10 just went for 45$ on auction. I might even look for potentially cheaper and lower numbered if possible to mitigate risk.
Some of his rookies:
2020-21 Merlin Chrome (Search Ebay Listings)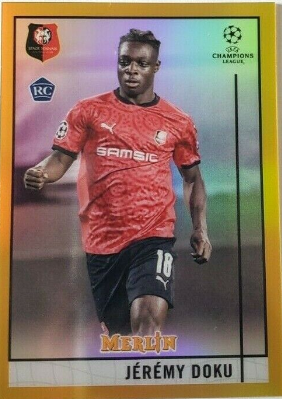 2020 Mosaic Euros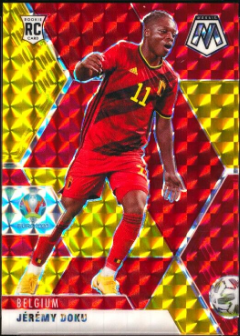 Hugo Ekitike – 20- PSG (on loan from Reims)- Striker – France
Fourteen goal contributions in Ligue 1 for Reims at the age of 19 caught PSG's eye and they decided to take Ekitike on loan for the 2022-23 season with an option to buy next summer at around 35 million. Already on 4 goals and 3 assists in an uber crowded PSG front line…Ekitike has been proving himself on the big stage.
Hugo's biggest strength is his movement and awareness. Scouted Football is quoted as saying "Tall, slender, lanky but quick across the ground and skilled with his feet…perhaps the best skill of his right now is how quickly and intelligently he reads and reacts to situations – – Ekitike is often a step ahead of his defenders"
Hobby Outlook: 3-8/10?
Only due to hobby scarcity…Ekitike has the ability to heavily rise in price in the very short term depending on how many 2023/24 sets he is included in. The only sets he's in so far are Topps Summer Signings, Topps Total Football and Topps Deco which aren't exaclty hobby favorites but do create a semblance of rarity as his only other current rookie would be his 2021-22 Panini Foot Sticker which would be considered his true rookie since it came out a season before his cards. If the reports are accurate…Messi could be headed to MLS next season and Neymar to another club which could potentially leave a void at striker Ekitike could fill. The latest reports have PSG looking to loan him out as they aren't happy with his performance so be careful. The entry point for his cards currently are pretty high based upon the chances of him performing at a very high level the rest of the year…so I'd currently hold off until we get a better sense of if he is going to be included in many of the sets Topps releases this year. If he is included…this would drag his value down exponentially.
Some of his rookies:
2021-22 Panini Foot – True Rookie (Search Ebay Listings)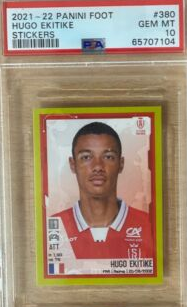 2022-23 Topps Summer Signings (Search Ebay Listings)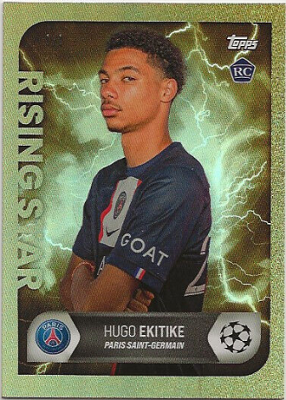 To know when the other league reviews come out follow us on Twitter @ExpensiveRecs and IG @Expensive_Rectangles. you can check out some of our other soccer card content like our soccer card auction reviews.