It's time for one of the most anticipated baseball card releases of the year, 2023 Bowman Chrome. It's one of the big 3 sets for the baseball prospectors. Bowman Chrome has mostly become known for having the best International signing players. A lot of these players are young, even for prospects, and have only played in the Dominican Summer League so it truly is a wait and see product. That doesn't stop collectors from diving in and this year will be no different. Take a look at the breakdown below and see what to expect if you are opening 2023 Bowman Chrome.
2023 Bowman Chrome Baseball Breakdown
Checklist – HERE
Hobby Box Master Makeup (Check Ebay Listings) – 2 Mini Boxes, 6 packs each (12 total), 2 autos, ~3.7 numbered cards not including autos
HTA Choice Box – 3 autos (Search On Ebay)
Print Runs ~1,400,000 hobby packs (117,000 Hobby master Boxes) ~100,000 HTA Boxes
Expensive Rectangles Review – As you probably know Bowman Chrome is all about the Bowman Chrome 1st Prospect cards, especially the autos. The goal of this review is not to steer you in the direction of who to collect, but to tell you what to expect if you are opening. If you want some insight into the prospects and what 1st cards players have ProsepctsLive and Prospects1500 give pretty good overviews. 
Let's dive into the print runs and odds to see what you can expect. First off in each hobby master box expect ~3.7 numbered cards that aren't autos. These can be from the base checklist or inserts. Most boxes will likely have 3 or 4 numbered cards. If you are just wondering about Chrome Prospect 1st base numbered (Search On Ebay) expect 1 per hobby master. There are 52 1st prospect base players in case you are wondering. 
Now on to the thing that everyone is chasing, the numbered 1st autos. This year there are 132 Chrome Prospect Autos (Search On Ebay) which is the most ever. Every year we seem to get about 10 more subjects it seems. Considering the more players makes it harder to hit the chase players this isn't a good thing. I haven't see a complete checklist of exactly what players are 1st autos. I do know that you should expect ~.75 numbered Chrome Prospect Auto per hobby master. That does not necessarily mean it will be a 1st. For HTA you can expect ~1.25 numbered Chrome Prospect Autos per box. For the numbered autos that are in both hobby and HTA it looks like Topps split the number just about down the middle. There are 1962 numbered autos per Chrome Prospect assuming everyone got the full allotment. If we are to assume (which is not always smart) then each player has over 2000 base autos. If it's Rookie autos you are chasing, they should fall 1 in ~20 hobby boxes and 1 in~16 HTA boxes. Assuming even distribution there are 829 rookie color autos and ~400 base autos.
Two of the new sets that people seem to be excited about are the Retrofractors (Search On Ebay) and the WBC Flag cards (Search On Ebay). The Retrofractors are the "1st Bowman" cards or Babe Ruth, Roberto Clemente and Johnny Bench. Of course the big excitement around these is the $200,000 bounty Dave and Adams put on the Ruth Superfractor. As for how often these fall the odds are a big confusing and base weren't even included on the odds sheet. The pack odds don't add up to the number of hobby packs like all the others so Topps messed up here. If you trust the odds you can expect to hit one numbered Retrofractor in roughly 423 boxes. If you take the pure number of cards and compare it to the amount of packs it's close to 550 boxes. As for the WBC Flag refractor you can expect to hit one of those in roughly 2 boxes and all are numbered.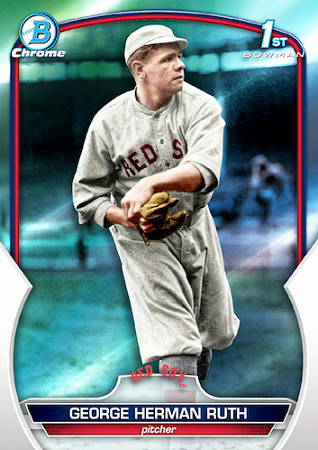 If you like content like this please read our other work like the print runs for unnumbered Julio Rodriguez rookie cards. Also please give us a follow on IG @Expensive_Rectangles and Twitter @ExpensiveRecs.
*All Check Ebay Listings are affiliate links.