The PWCC Weekly auction that was scheduled to end on February 5th had a glitch on Sunday night that pushed it to be completed Monday night. The change in end date did not seem to hurt the sales. The night was led by a big Vinicius Junior rookie card. Other than that the night was dominated by the normal suspects (Messi, Pele, Maradona , Cristiano Ronaldo, Haaland and Mbappe). Let's take a look at the sales.
2018 DONRUSS OPTIC GOLD VINICIUS JUNIOR ROOKIE CARD /10 #177 BGS 9.5 GEM MINT – $12,000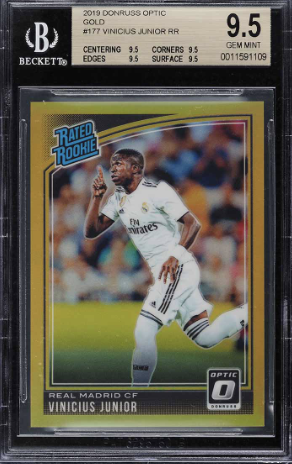 ***What an incredible sale for this card–it really shows how much can change in a single year once the community established him as an 'investable prospect'.
2019 FINEST PRIZED FOOTBALLERS GOLD REFRACTOR ERLING HAALAND ROOKIE /50 PSA 10 – $4,560



***The inserts are great cards, but unless the inserts are chase-product hits, they really pale in comparison to the base refractor variations in the same set. They definitely have substantial value–they're just all very different. (Search This Week's Haaland Auctions)
1962 LAMPO CALCIO MONDIALE SERIES PELE #44 PSA 8.5 NM-MT+ – $3,960



***Collectors love the flag border in the Lampio '62 series, but it's interestingly the year Pele was infamously hurt for most of the tournament. (Search This Week's Pele Auctions)
2018 NATIONAL TREASURES PENMANSHIP GOLD LIONEL MESSI AUTO /5 #P-LM PSA 8 NM-MT – $3,840

***A more premium price on a sticker Messi auto, the "LEO" leaves more to be desired, but a premium price with a premium brand, National Treasures, and SSP numbering. (Search This Week's Messi Auctions)
2017 TOPPS CHROME UEFA CHAMPIONS GREEN REFRACTOR KYLIAN MBAPPE RC /99 BGS 9.5 – $4,680

***There's 99 copies of this 2017 Green Refractor, and it's been transacted five times over the span of a few months; when buying cards of this caliber, are you comfortable with the card transacting this often?
1958 EDITORA AQUARELA SOCCER BLACK NUMBER PELE ROOKIE #10 PSA 3 VG – $3,480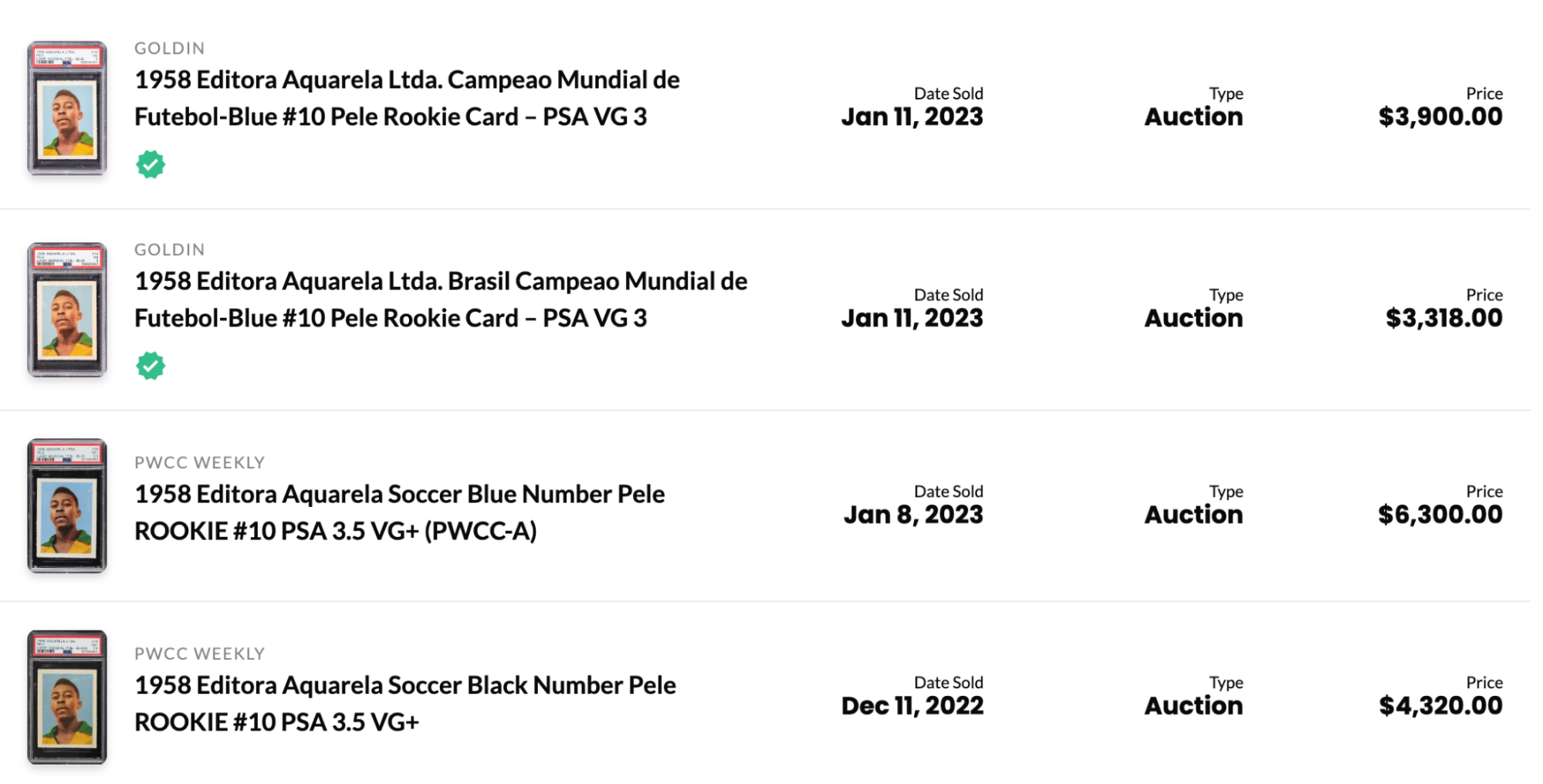 ***Another consistent sale, always be mindful of eye appeal fluctuations in price–the line across the top of the card most certainly held this back from going breaking the previous sale. (Search This Week's Pele Auctions)
2020 PANINI OBSIDIAN PRIVATE SIGNINGS LIONEL MESSI AUTO #PSLM PSA 9 MINT – $2,760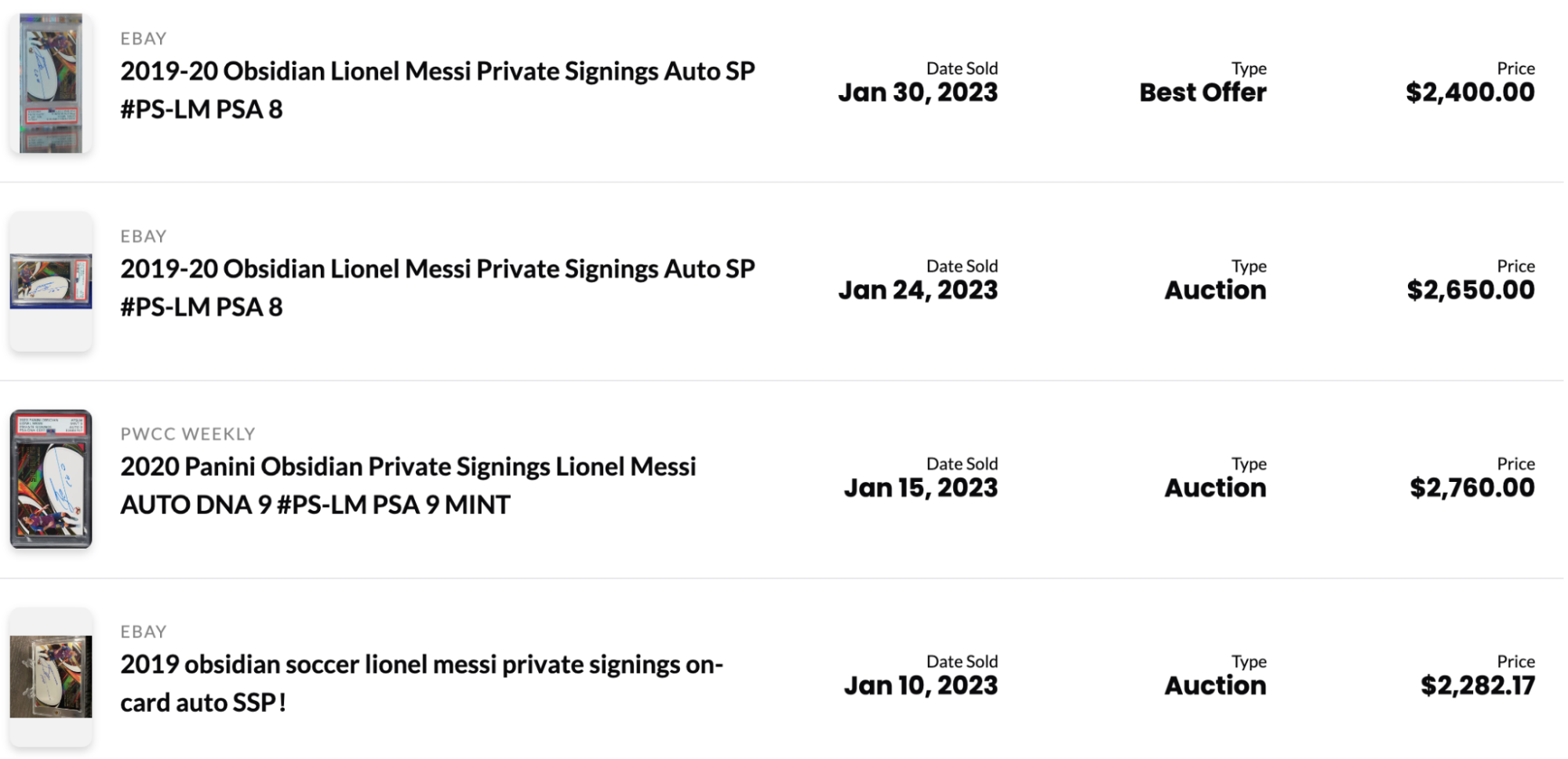 ***It's easy to say on-card autographs > sticker autographs, but the prestige of what set the autograph is from and what exactly this is–we're seeing that National Treasures sticker auto sell for much more than this Obsidian auto for that same reason. (Search This Week's Messi Auctions)
2018 NATIONAL TREASURES INTERNATIONAL CRISTIANO RONALDO PATCH AUTO /20 PSA 9 – $2,880

***The Cristiano landscape has changed so much in a few short months…lots of great prices and amazing Cristiano cards are available. I believe this was the price of a higher-end sticker autograph just a year ago. (Search This Week's Cristiano Ronaldo Auctions)
2004 PANINI SPORTS MEGA CRACKS BARCA CAMPEON LIONEL MESSI ROOKIE #89 PSA 10 GEM – $3,360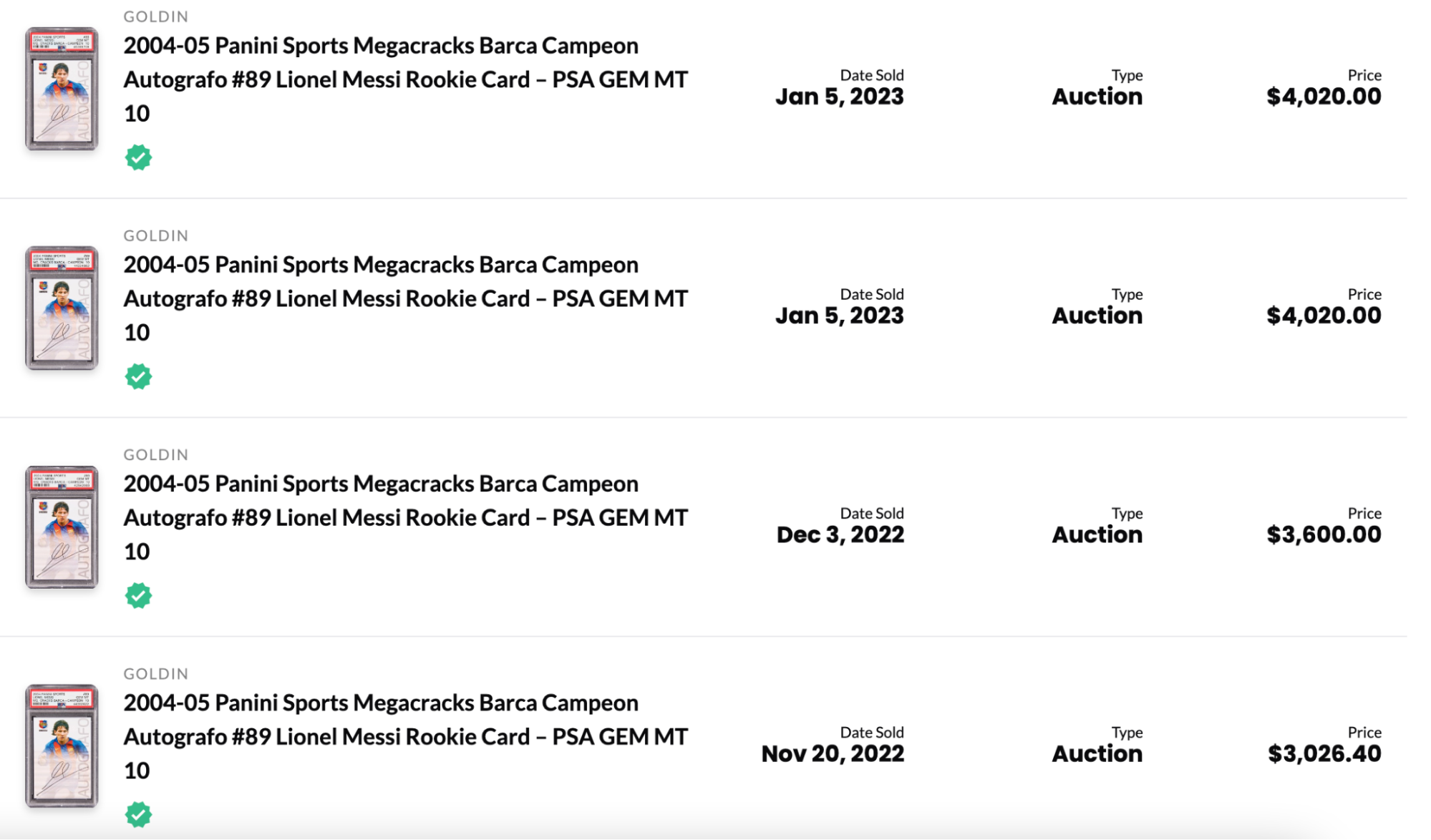 ***This card is the poster-boy of 'population discovery' in "vintage" Soccer to me–the high grade supply seems endless, and I'm not sure when it actually shakes out.
1979 PANINI CALCIATORI SOCCER DIEGO MARADONA ROOKIE #312 PSA 7 NRMT – $1,500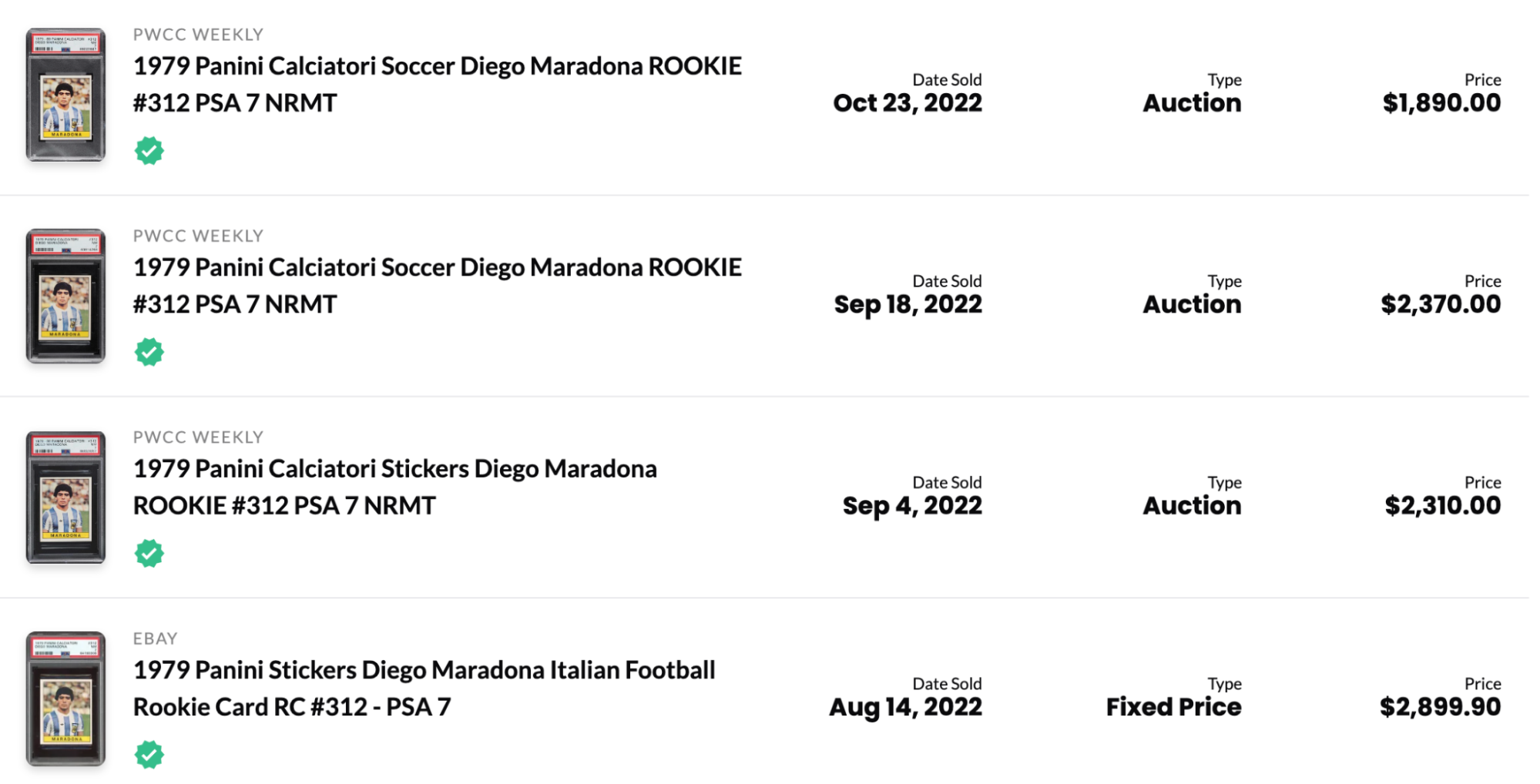 ***People love this sticker–the first generational talent 'rookie' from a 'legacy brand'. (Search This Week's Maradona Auctions)
2019 PANINI OBSIDIAN MATRIX MATERIAL LIONEL MESSI PATCH AUTO /15 #MX-LM BGS 9.5 – $2,340

***Just a mental note that even with a BGS 9.5 premium, this card sells for less than the National Treasures auto. (Search This Week's Messi Auctions)
2018 PANINI TREBLE WORLD CUP STICKER CRISTIANO RONALDO AUTO #CR7 PSA 7 NRMT – $1,320

***I know all the buzz on trebles is with the foils these days, but if you check the sell sheet, these cards were some of the big chases in Treble–that's an autographed 2018 Cristiano sticker embedded into the card…super cool piece. (Search This Week's Cristiano Ronaldo Auctions)
1994 PANINI EDILAND PARMA GIANLUIGI BUFFON ROOKIE #88 PSA 6 EXMT – $900


***This sticker's market is still in the early stages–it's unfair to try to compare grades, pricing, etc–when you're looking at pieces like this one.
If you like content like this make sure to bookmark the site as well as follow us @Expensive_Rectangles on Instagram and @ExpensiveRecs on Twitter. Here are some other soccer card sales.