2023 Topps Series 1 is here and Spring Training is right around the corner so baseball card excitement is picking up. There is a big change in Topps Series 1 this year and that is the elimination of the SP/SSP image variation cards. For traditionalists this is not a change that seems to be going over well. There is still an SSP image variation it is now known as the Golden Mirror variation. Instead of these variations having a limited checklist like the past SP/SSP, there is a Golden Mirror card of the full 330 card base checklist. These Golden Mirror variations have a gold back with a big SSP font on the back so they are much easier to identify. There are also only 150 of them which is even shorter print than the old SSP cards which usually had a print run around 300. Here is an example of the Julio Rodriguez Golden Mirror so you can see what to look for.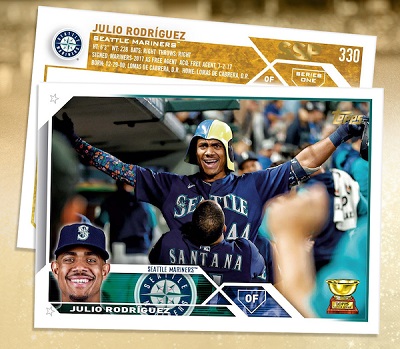 2023 Topps Series 1 Rookies
The rookies checklist doesn't have the top end stars of past years but it is pretty solid and deep. The class is headlined by NL Rookie Of The Year Michael Harris (Search On Ebay). There is also Gunnar Henderson (Search On Ebay)  who is at the top of most MLB prospect lists. Orioles fans also get the rookie of Adley Rutschman (Search On Ebay), who was the runner up in the AL Rookie Of The Year to Julio Rodriguez. A couple other rookies that collectors are likely to be chasing are Riley Greene (Search On Ebay), Triston Casas (Search On Ebay), Miguel Vargas (Search On Ebay) and Gabriel Moreno (Search On Ebay). There are also some past highly rated prospects that have fallen off a bit like Nolan Gorman, Brett Baty and JJ Bleday to name a few. Two of the big rookies that Topps is clearly holding back for later products, Corbin Carroll and Francisco Alvarez, even have autos. We aren't here to tell you who to invest in so do your own research if you are buying rookies.
2023 Topps Series 1 Box Breakdown
2023 Topps Series 1 has 4 box SKUs (Hobby, Jumbo, Blaster, Hanger) that vary greatly in value based on the box makeup. There is also 1st Edition but for this review we won't be covering that. Based on the $360 box price that Topps released at all we can advise is buy Jumbo boxes (Search On Ebay) instead and here's why. Jumbo boxes are by far the best value of the 4 SKUs. Value in this sense means that if you are going to be buying Series 1 boxes it should be Jumbo if you can afford it. It does not mean they are "worth it" as ripping boxes usually aren't. If you are reading this you are probably interested in ripping so why not rip the one that will provide you the best value. Of course in the end it all comes down to which cards you hit. If you are wondering there are roughly 150,000 Hobby boxes (Search On Ebay) and 80,000 Jumbo boxes so there is plenty to go around.
As I was writing a detailed breakdown of what you would hit in a case of each SKU I came across a chart on Twitter that made it very simple to see why Jumbo is the way to go. I deleted everything I wrote and will include the chart instead as the visual really drives home what I was trying to get across. This work was done by @VintageBCP so go give them a follow. What this chart shows is the cost of hitting the parallels in each SKU. You can tell based on the chart that the value by box in order from best to worst is Jumbo, Hobby, Hanger and Blaster.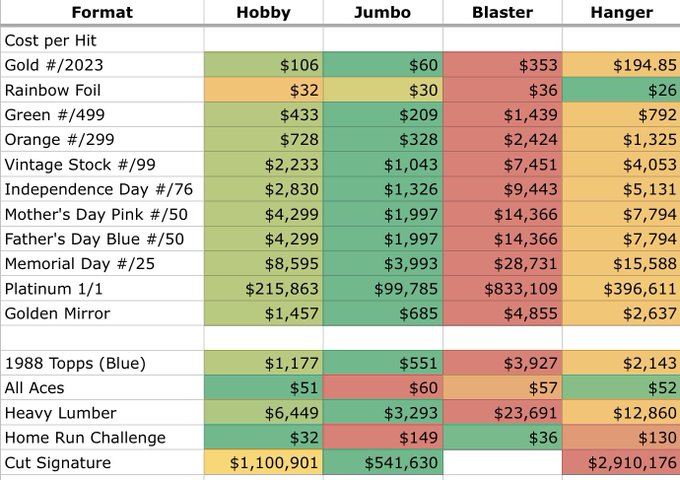 The variables used in the chart above are in the following chart. These are the current prices of each box and the pack odds for each product. As time changes so will the numbers so make sure to account for this if prices have fluctuated a lot by the time you read this.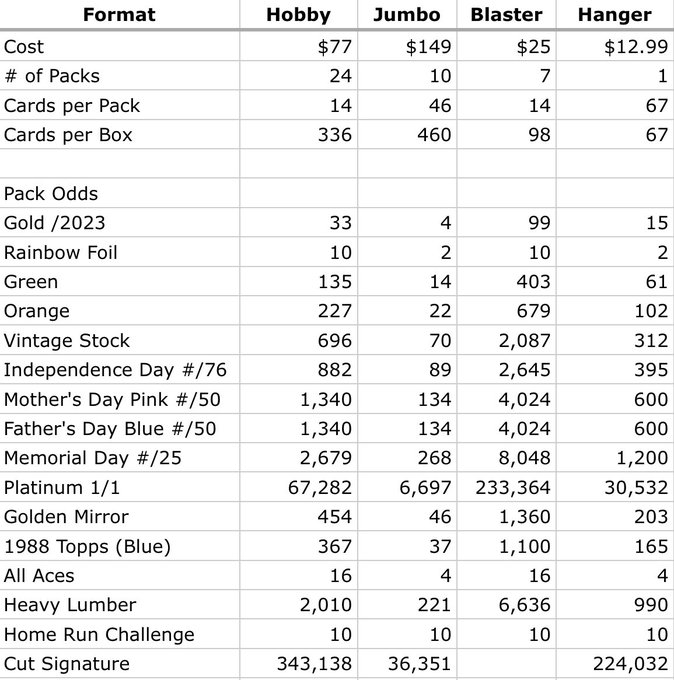 There are a couple things not included in the chart. We now know that there are Home Field Advantage cards but without pack odds it's not possible to pinpoint how often they are included in each box. There are also the Clear Set which is a hobby exclusive but that is not nearly enough to make up the difference as those are hard to hit. There are also a number of Hobby and Jumbo exclusives like City Connect, Sketch Cards, Patchwork Of The Past, Reverence, In The Name and the silver packs which only make the advantage over the retail boxes more profound. It is so bad that if you have limited funds you are probably better off buying into Jumbo breaks that buy Blasters or Hangers.
Hopefully you see this review before you start buying boxes. I would like to think the box prices will adjust based on the numbers but the hobby is not know for it's efficiency so who knows. If you like this type of content make sure to check out some of the other stuff like how many Julio Rodriguez Topps Rookie Cards there are. Also please follow us on Twitter @ExpensiveRecs and IG @Expensive_Rectangles.