2022 Bowman's Best Baseball doesn't figure to have near the controversy of 2021 Bowman's best thanks to Topps not screwing up the rookies that were included this year. I'm not going to wade into the debate other than to say thankfully they didn't make the same mistake again. They brought back the Top Prospects designation to clear up any confusion. Topps added more numbered parallels this year upping it from 864 to 1262 per base player. If you have been feigning for UFO based cards well you are in luck. Here is a look at the print runs and review.
2022 Bowman's Best Baseball Breakdown
Checklist – HERE
Hobby Box Master Makeup (Check Ebay Listings) – 2 Mini Boxes, 6 packs each (12 total), 4 autos, ~3 numbered cards
Top Rookies – Julio Rodriguez, Wander Franco, Bobby Witt Jr., Jeremy Pena, Oneil Cruz, Steven Kwan, Seiya Suzuki
Print Runs ~47,000 boxes
Per Player (approximates)
Base Refractors ~5600 Atomic ~475 (Check Ebay Listings)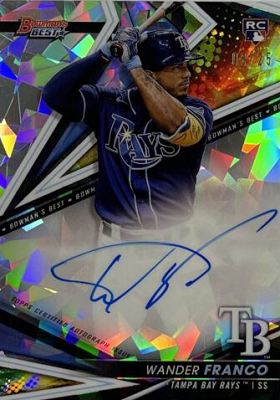 Bowman Masterpieces ~6000 Atomic ~500 (Check Ebay Listings)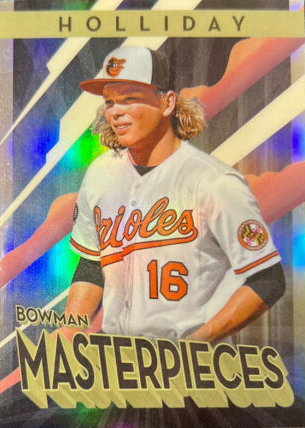 Bowman UFO ~4100 Atomic ~250 (Check Ebay Listings)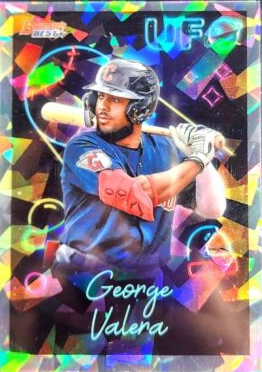 Elements of Excellence ~4700 Atomic ~295 (Check Ebay Listings)


Global Impact Die-Cut ~1550 Atomic ~200 (Check Ebay Listings)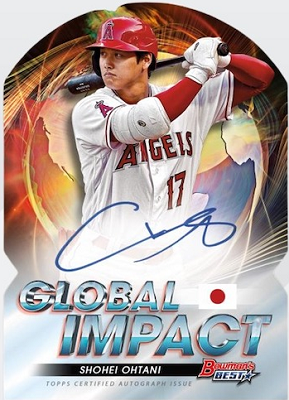 Prospective Royalty ~12500 Atomic ~400 (Check Ebay Listings)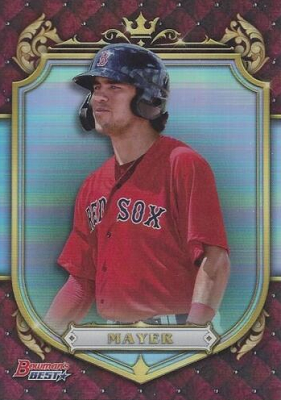 2022 Bowman's Best Review
As you probably know by now the Topps 2022 rookie class is considered loaded led by Julio Rodriguez, Wander Franco, Jeremy Pena and Bobby Witt Jr. That alone would put these boxes ahead of 2021 Bowman's Best (Check Ebay Listings). The most interesting thing is that Topps increased the number of parallels without significantly upping the print run. Usually they add the extra parallels so they can keep the same number of hits per box but increase the number of boxes. This time they have pretty much just given an extra numbered card per master box. That on top of the rookie class really makes this a much better product than 2021. They did 5 Inserts this year instead of 4 like last year. With the case makeup this year you will get 5 Atomic Inserts per case compared to 5.5 last year. That is a small drawback compared to getting on average 8 extra base color per case.
Since autos are a big part of the product lets take a look at those. They condensed the number of signers from 156 to 147 this year. All of the big rookies and prospects get autos. To my eye the base autos this year look much stronger than 2021. Dual Autos are the one set of autos that really takes a hit. They cut the checklist down from 9 to 4. All 4 are decent and the Bobby Witt Jr / Wander Franco is a great hit but last year had a Trout / Ohtani  (Check Ebay Listings) and Soto / Acuna dual auto. At the current selling price of $300 for 2022 Hobby boxes and $270 for $2021, the 2022 looks like a much better deal.
If you like content like this please read our other work like the print runs for unnumbered Julio Rodriguez rookie cards. Also please give us a follow on IG @Expensive_Rectangles and Twitter @ExpensiveRecs.
*All Check Ebay Listings are affiliate links.