Julio Rodriguez is the hottest name in the baseball card hobby from the 2022 class. Wander Franco was thought to be the hot name going into the season but Julio Rodriguez won the Rookie Of The Year and has emerged as the player to chase. The first 2022 Julio Rodriguez Topps rookie card is in Topps Series 2 as an SP. He got his first base card in 2022 Topps Update in which he also had SP and SSP. The consensus was he would be a SP in 2022 Topps Chrome. As many of you probably know Topps screwed up and forgot to put the SPs in the boxes which cause the Silver Packs. His first packed out Chrome card was able to be pulled from the inagural Topps Chrome Logofractor boxes.
The point of this article is to show the print runs for some of his most important non numbered cards from the year. You will notice the ~ next to each number as these are approximates. The smaller the number the more accurate it is. You will also notice that there are not any Julio Rodriguez Topps rookie card autograph print runs on here. Topps does not distibute auto cards evenly per player so unless the card is numbered there is no way to know how many there are of each player. Julio Rodriguez will likely have many less autographs than a backup veteran player.
These print runs will also be relevant for the rookies that were mostly in the same checklists as Julio Rodriguez. This includes but is not limited to Bobby Witt Jr. and CJ Abrams rookie cards. If you are relying on these print runs for those other players make sure to check each product checklist. If you are in the market for a rookie card for any of those players hopefully these print runs will help in your decision.
Julio Rodriguez Topps Rookie Card Print Runs
2022 Topps Series 2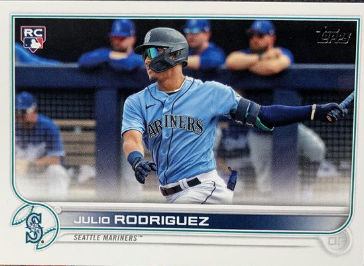 SP ~3000 (Search On Ebay)
2022 Topps Update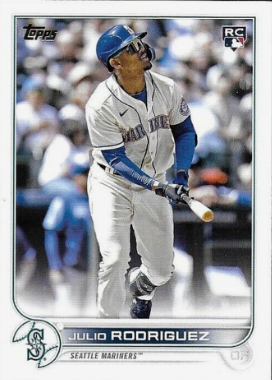 Base #US-44  ~125,000
SP ~3000 (Search On Ebay)
SSP ~320
2022 Topps Chrome Logofractor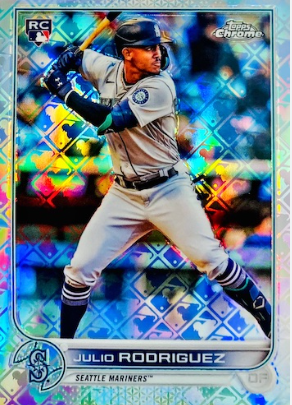 SP Variation #111 ~220 (Search On Ebay)
2022 Topps Cosmic Chrome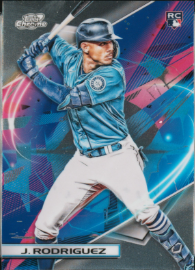 Base #197 ~5700 (Search On Ebay)
Refractor ~180
Nucleus ~120 
2022 Topps Chrome Update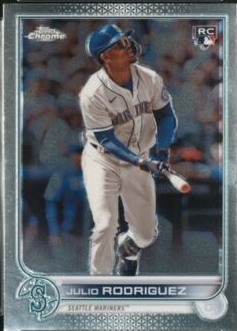 Topps Chrome Update #USC-150 Purple ~30,000
Topps Chrome Update Pink Wave ~7500
2022 Topps Chrome Sapphire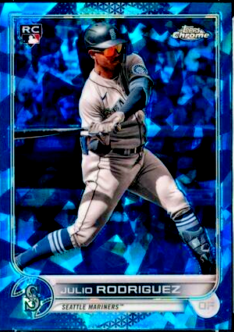 Base #67 ~1050 (Search On Ebay)
2022 Topps Chrome Update Sapphire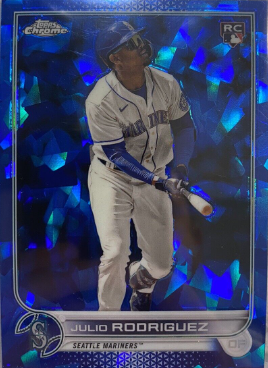 Base #US-44 ~2350 (Search On Ebay)
2022 Topps Stadium Club
Black And White #148 ~60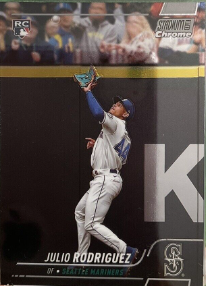 Base Chrome ~1650 (Search On Ebay)
Base Chrome Refractor ~410
Beam Team #BT-25 ~600
2022 Topps Finest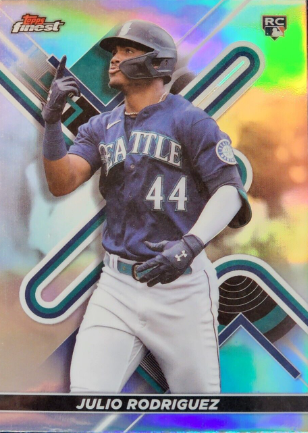 Topps Finest Refractor #23 ~2100
Topps Finest Rookie Design Variation #FRD-JR ~1300
If you like more information like this make sure to follow on Twitter @expensiverecs and Instagram @expensive_rectangles.