2023 Topps Chrome Update Baseball Breakdown
Checklist – HERE
Hobby Box  (Check Ebay Listings) – 24 packs, 1 auto
Super Jumbo Box – 3 autos (Search On Ebay)
Breakers Delight Box – 2 autos (Search On Ebay)
Blaster Boxes – (Search On Ebay)
Print Runs ~2,400,000 Hobby packs (~100,000 Hobby Boxes), ~400,000 Super Jumbo packs (~33,333 Super Jumbo boxes), ~60,000 Breakers Delight packs/boxes, ~1,650,000 Blaster packs (~206,000 blaster boxes)
Pink Refractor ~1875 of each
Sepia Refractor ~1875 of each
Negative Refractor  ~400 of each (Search On Ebay)
*All print runs are approximations. Topps odds aren't completely perfect but I can get within a reasonable margin of error when calculating. That is why you see a ~ before numbers.
Expensive Rectangles Review – 2023 Topps Chrome Update Baseball is here, and people are excited as it is the first product with the MLB Debut Patch Auto 1/1 cards (Search On eBay) that were hyped on opening day of the season. The cool part is that you can hit these highly coveted MLB Debut patch cards in any configuration. The actual cards are only live in Breakers Delight. In the other 3 configurations they are non-expiring redemptions. Let's take a look at how much you would have to spend on average to hit one of the MLB Debut Patches in each configuration. I am using the Topps sales price of $140/hobby, $375/Super Jumbo, $275/Breakers Delight and $35 per blaster. That means you would be be paying ~$491,000 in hobby, ~$428,000 in Super Jumbo, ~$550,000 in Breakers Delight and ~$1,500,000 in blasters. Pretty crazy to look at it like that. Sadly, the two rookies of the year, Corbin Carroll and Gunnar Henderson both got called up last year so they don't have MLB Debut Patch Autos.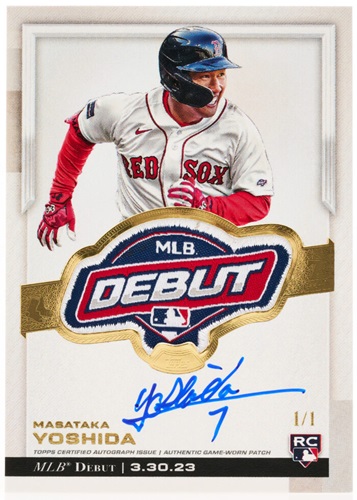 Another thing I like looking at is the chances of hitting a base Gold /50 parallel or lower card per box. That breaks down as following ~.13 in Hobby, ~.19 in Super Jumbo, ~.116 In Breakers Delight and ~.0175 in Blasters. If we use the same sales prices above that means we are paying the following per Gold or lower card for each type of box Hobby ~$1,068, Super Jumbo ~$1,948, Breakers Delight ~$2,375 and Blasters ~$1,988.
Of course, the autos play a lot into the prices of the different boxes with 1 per Hobby, 3 per Super Jumbo and 2 per Breakers Delight. That breaks down to $140 per hobby, $125 per Super Jumbo and $137.50 per Breakers Delight. You will hit an auto in about 1 in every 6 blasters which puts the price per auto there at ~$210.
There of course are other differences between boxes such as the number of base refractors in each box or the fact that you can only hit Youthquakes (Search On eBay) and Chrome Legend autos (Search On eBay) in Breakers Delight. For the most part I think Topps tried to keep the overall value of each configuration about the same. They haven't always done the best job of that in the past. I will be interested to see what happens to box prices as more of the big MLB Debut Patches come out. Honestly it shouldn't matter much as they likely add less than a $1 or 2 of implied ROI to boxes but we know that is not how the hobby works. If you see a particular configuration dropping more than other hopefully you can use this data to see if it's worth it to buy.
If you like more info like this or just looking at cool cards please make sure to follow on Twitter @ExpensiveRecs and on IG @Expensive_Rectangles
You can also check out the 2023 Bowman Chrome review or any of our other content.
**All Search On Ebay links direct you to eBay for which I can possibly make affiliate revenue.